Triadelphia Veterinary Clinic was founded with the idea of creating a family friendly hospital that invites your whole family to participate in your pet's veterinary care. Our Doctors have over 50+ years of professional experience.

---
Our Doctors
Dina Jones, DVM
Dr. Jones has been practicing veterinary medicine for over 20 years. She is married, a mother of two wonderful boys, a spoiled miniature schnauzer and cat. She has been in the veterinary community since she was a teenager, working as an assistant in Westminster, Maryland. Dr. Jones graduated Magna Cum Laude from the University of Delaware in 1992 with a major in Animal Science and a minor in Biology. She was then accepted to the Virginia-Maryland Regional College of Veterinary Medicine where she received her Doctor of Veterinary Medicine in 1996.
She has a special interest in non-traditional, exotic pets such as rabbits, guinea pigs, ferrets, hamsters and other rodents which she gets to opportunity to treat here at TVC. While she does not see them here at TVC, she had the good fortune of working with a Board Certified Avian Specialist gaining knowledge of various bird species as well as reptiles. Dr. Jones raised Netherland Dwarf rabbits starting as a 4-H project that evolved into an avid hobby, which she continued until her college years.
---
Heather Stup, DVM
Dr. Stup grew up in Howard County and knows what a wonderful place the area is for pets and families. After graduating Magna Cum Laude from the University of Maryland, College Park, she attended North Carolina State University College of Veterinary Medicine. While there, she developed interests in oncology and emergency medicine. Upon graduation from NC State, she was chosen by Tufts University in Massachusetts for advanced studies as an intern in small animal medicine and surgery. There, she pursued further training in oncology, emergency medicine and internal medicine. Since 2002, Dr. Stup has practiced Veterinary Medicine in Howard County: the area that started her passion for helping animals. In January of 2006, she was proud to open Triadelphia Veterinary Clinic with her colleagues. She lives in the neighborhood with her husband, daughter, son, 3 dogs, cats, macaw, miniature horse, chickens & goats.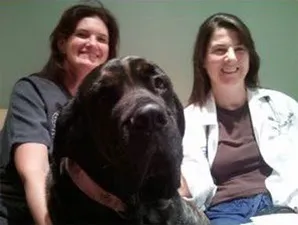 ---
Susan Oltman, DVM
Dr. Oltman grew up in Livonia, Michigan. She attended Michigan State University, achieving her Doctor of Veterinary Medicine degree in June 1990. She has lived and worked in Howard County, Maryland since August 1990. As well as being a small animal practitioner, Dr. Oltman has worked with Hills Pet food on several clinical trials for new prescription diets. She strives to form lasting relationships with her clients and their pets. Dr. Oltman lives with her husband, and has a great bond with her now grown sons.
---
Our Support Team
Our veterinary team is knowledgeable, compassionate, friendly and committed to your pet's health care. They believe in providing personalized attention to the unique concerns of each pet and their owner. We consider ourselves as part of one big family and extend that invitation to our clients as well.
---
Carissa, Practice Manager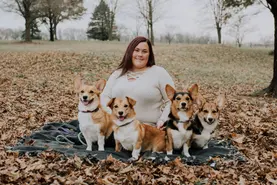 Carissa has always had a passion for animals, people, and helping in any way she can. She grew up in the local 4-H program showing cattle, hogs, sheep, and pleasure riding horses. You could say that the love for animals came pretty naturally to her.
She has a passion for building relationships with clients and helping their pets live long, healthy lives. Veterinary nutrition has always been an interest and has become a large piece of knowledge in her work. When not working at the clinic or on school work, you can find Carissa spending time with family and giving lots of love to her pack of Pembroke Welsh Corgis, Londyn, Mr. Wilson, Styrling, and Brystol; Doberman mix, Dax; and Scottish Kilt, Lillian Disney! She also spends a lot of time enjoying the outdoors, riding with her husband on their Harley and going on many adventures with their Jeeps.
---
Monica, Veterinary Assistants\Inventory Manager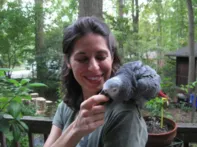 Monica joined our team in June of 2010. She was born in Milan, Italy. She backgrounds in finance, and psychology. Monica also has a degree in massage therapy from London, UK. She lives in Howard County with her son. Her pets keep her busy including a French Bulldog and a snake. When she has free time she is always working on something new and different, but always crafty. She enjoys going on hikes, reading and spending time with her son.
---
Mary, Register Veterinary Technician Manager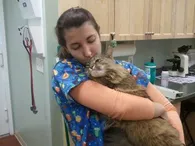 Mary attended Harcum College in conjunction with The University of Penn. There she earned her license as a Registered Veterinary Technician in 2003. She came to Triadelphia in December of 2008. She has a profound love for her cats and parrots. In Mary's spare time she finds different places to visit in the woods and is always sure to make adventures of it.
---
Rhyan, Veterinary Receptionist Manager

---
Kelsie, Registered Veterinary Technician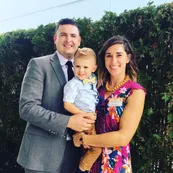 Kelsie joined Triadelphia Vet Clinic in September 2013. She attended CCBC Essex where she earned her license as a Registered Veterinary Technician in 2009. She has always had a passion for horses. She grew up riding and competing in the hunter/jumper ring with her horse, Chance. In her spare time she enjoys riding whether it be jumping in the ring or enjoying the scenery of rolling acres. She got married in 2007, and currently lives locally with her husband, son, and loving pit-bull mix, Chawlie.
---
Kim, Registered Veterinary Technician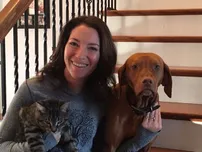 Kim is an original employee from 2006. Kim graduated from CCBC Essex where she earned her license as a Registered Veterinary Technician. She has known the doctors here at TVC for many years and believes that they and the staff provide the best quality care for the animals. Kim is proud to be part of our family. After growing up locally in Carroll County, she settled there with her husband, three daughters and their son. Her house is never boring with her many pets from dogs and cats to even fish.
---
Sue, Registered Veterinary Technician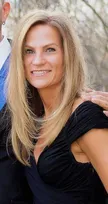 Sue graduated from Virginia Tech with a biology degree in 1992. She started her career in the pharmaceutical industry working as a microbiologist in the quality control laboratory. From there she moved into the biotech industry, working in the analytical chemistry and biochemistry fields. She advanced in her career and became a supervisor of quality assurance. In 1996 she got her first dog, a Great Dane, which prompted an evaluation of career choices. During her last four years in this industry she went back to school and in 2001 received her Associate of Applied Science degree in Veterinary Technology. Sue currently works in both fields. She lives with her son and her 2 Great Danes.
---
Nicole, Registered Veterinary Technician
---
Ali, Registered Veterinary Technician

---
Dana, Registered Veterinary Technician

---
Ashley, Registered Veterinary Technician
---
Marta, Veterinary Assistant

---
Sara, Veterinary Assistant
---
Brittany, Veterinary Assistant

---
Katie, Veterinary Assistant
---
Megan, Veterinary Assistant

---
Mike, Veterinary Assistant
---
Keyonte, Veterinary Assistant
---
Amanda, Veterinary Assistant
---
Kaitlyn, Veterinary Assistant
---
Jess, Veterinary Assistant
---
Tina, Veterinary Receptionist
---
Shatana, Veterinary Receptionist
---
Alyssa, Veterinary Receptionist

---
Jackie, Veterinary Receptionist